Jadah Sellner – Build Your Challenge
Price : $399
Sale Page : http://courses.jadahsellner.com/p/build-your-challenge
Archive Sale Page: http://archive.is/0hifH
Would you like to build an engaged community, increase your reach, and grow your tribe of dream customers?
Hey there, world changer, does this sound like you…?
Maybe you have a great product or service… but no one knows about it. You're frustrated because you know you have something to offer that's life-changing, yet you're not hearing the "cha-ching" in your bank account, just crickets "chirp, chirp."
Maybe you're sick of trying to "build your list" or "monetize your blog." You want a real, authentic way to serve your people while also expanding your reach.
Or maybe you already have a community, but struggle to make money from it. You've been giving too much away for too long that people think you're the FREE section on Craigslist. That ain't cool, that ain't a business, and that's definitely not sustainable.
Are you raising your hand? No shame, love… I've been there, and I can help you. 🙂
Let's face it: Trying to increase your reach and share your message in the online business world can feel like a constant battle uphill. So. Much. Noise.
So how do you stand out? Especially when it feels like everybody does exactly what you do?
Here's the not-so-secret "secret" — design an experience that gives your tribe a taste of working with you, and delivers real, powerful value. You know the kind of value where people can't STOP talking about how much you've changed their life. #WordOfMouthRocks
But first a confession: Growing your tribe is not an overnight thing (at least not when you're building a business with integrity). If you want to build, deep meaningful relationships with the people serve, you have to be in it for the long game. You have to be committed to service, not just making a quick buck. You've got to work.
It's time to bring the heart back to hustle. Take a stand and really care about the people behind the numbers.
#LoveOverMetrics.
Whatever roadblock you're hitting, know this:
You don't need to give up.
So, whether you…
… Want a way to sell more to your right people, while still serving them at the highest level
… Are ready to create a challenge that's fun, engaging, and profitable
… Have already run a challenge, but want new actionable steps and ideas to improve your process
… We're ready for you. And we've got you covered.
Step-by-step game plan? Yes! Cookie cutter blue prints? No, thank you!
It's your turn to have a thriving business and do it in way that feels simple, fun and authentic to you!
Let's dream for a moment.
Imagine…
Increasing your visibility, reach and revenue. You want to reach more people and if you're a BIG world-changing dreamer (like me), you want to impact millions across the globe.
Getting your message out there and helping people transform their lives. You want to share your passion, your gifts, your expertise and be seen as the go to person in your industry. You love teaching, creating, and connecting with others.
Building an engaged tribe of people you love to serve. You're ready to gain wider awareness for your company and establish your authority as a leader. You don't want a business with just paying customers. You want to build a community with brand ambassadors who are excited to spread the word about your awesomeness!
Creating financial freedom. The type of financial stability and schedule flexibility that gives you the resources you need to grow your team, so that you have time to travel, invest in your own self-care and nurture the meaningful relationships in your life. Serve from the overflow!
Kind of dreamy, right?
Introducing… Build Your Challenge™
a fun + simple way to grow your tribe
Learn the most powerful way to build an engaged community, attract new raving fans, and grow your tribe of dream customers — so that you have a thriving business that serves your life and the world! And of course do it in a way that's authentic to you!
Are you ready to do this together?!
My name is Jadah Sellner, and I help entrepreneurs build their tribe. I'm a community builder at heart and have grown an email list from 2,000 to 355,000 happy subscribers using challenges. I've created this 5-module course and community, designed to help you strategically map out, market, and run your first (or best ever) challenge –– teaching you all of my BEST tips to guide you to rock yours too.
With 5 modules of video trainings and PDF's inside Build Your Challenge™, you'll learn how to attract the tribe of your dreams, and nurture them to become your best buyers, and proud brand ambassadors.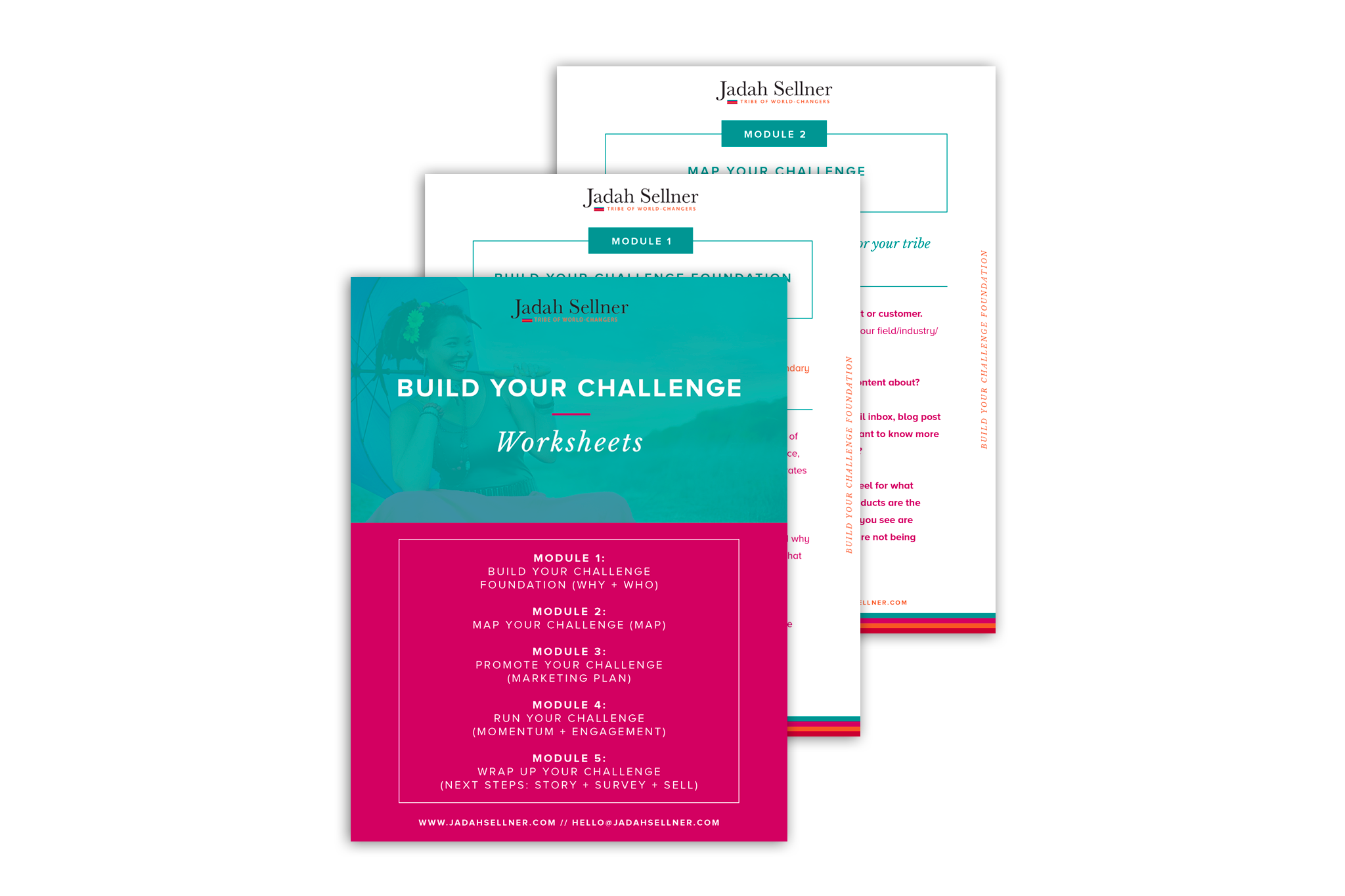 You'll also be welcomed into the exclusive Build Your Challenge™ Facebook group, where you can access 4 Q&A Office Hours replays with me (Jadah Sellner).
I'm excited to share the lessons and mindset I used to grow a community over 1,000,000 (yes, one million!) happy, loyal fans from around the globe via social media + email. #WorldChanger
From 2012 – 2016, Jen Hansard, and I built an online community together and run challenges several times a year for hundreds of thousands of our Simple Green Smoothies tribe members. With the first challenge we hosted, we grew the e-mail list from 2K to 30K subscribers. By 2016, we attracted a tribe of 415K Instagram followers, 320K Facebook fans, 355K email subscribers and over 30 million page views – all grown from a place of love, value and service.
Now, I want to help you do the same.
#WeAllStartAtZero
Word on the street… the happy BYC tribe
In October, I wrapped up the Build Your Challenge Beta Group Founding Class. I jammed on two live workshops, for two days with 64 fellow tribe builders! By the end, they got clear on how to authentically connect and build their dream tribe with a challenge that grew their email list and increased their community engagement too! Check out what some peeps are saying below…
"Over 700 people joined the private Facebook group that I set up for my challenge. 1500+ people signed up for my newsletter during the one week challenge. And the response from participants has blown me away. They loved the experience of it, and I owe this to how well Jadah presented the blueprint for running a challenge that works." – Rachelle Doorley
"Well I just opened registration yesterday, and I've got about 30 people signed up so far. The challenge feels much more "me" than the webinar approach I had been using, which was too intense and less personal. It feels more interactive and less salesy." – Lane Rebelo
"I would absolutely recommend this course to others. Building a challenge is an overwhelming prospect, and Jadah's program made it totally manageable. By the time it's done, you literally have a challenge ready to go. (If you do the work, that is.)" – Stephanie Stiavetti
The BYC grads have rocked their challenges, and I can't wait to help you rock yours too!
Curious, what's inside the Build Your Challenge™ course?
Here's a snapshot of what you'll get:
MODULE 1 | BUILD YOUR CHALLENGE FOUNDATION
First, set your challenge foundation. Get clarity on the two most critical W's of challenge building: WHY you're doing a challenge and WHO it's for. When you're clear on what you're creating, why you're creating it, and who your challenge is for, you'll rock your challenge with confidence and get the best results.
MODULE 2 | MAP YOUR CHALLENGE
Next, map your challenge content, so you have an action plan that gets your tribe results, eagerly excited to know "what's next?" (which is an easy way to promote your products + services). You'll develop a clear vision for your challenge from start to finish – including your challenge topic, activity prompts, length and delivery method.
MODULE 3 | PROMOTE YOUR CHALLENGE
Then, create your plan to promote your challenge, so people actually know about your challenge. A challenge isn't just about attracting people to participate – it's about attracting the right people. You will learn how to organize your challenge sign-up page and optimize your challenge opt-ins so you're magnetizing only your dream community members.
MODULE 4 | RUN YOUR CHALLENGE
Ready? Set? Time to rock it! In Module 4, you'll map out your communication and engagement strategy that will build momentum and trust all the way through your challenge. Learn how to properly onboard your challenge participants and keep engagement high.
MODULE 5 | WRAP UP YOUR CHALLENGE
Last, wrap up your challenge and build a bridge for the next step you want your challenge participants to take – this is where you get clarity on how to best serve your tribe, so you can grow a profitable business. What happens when your challenge winds down? Learn the appropriate next steps for your dream challengers to take by the end of your challenge.